Hi and thank you for visiting our site. Having spent 13 years as a Primary Class Teacher and 10 years as a Tutor, I've tried lots of different ways to help children learn their times tables. We've looked for patterns, quick fire, learnt by rote (boring), sung, played games and practiced, practiced, practiced, written raps, used apps, websites and You Tube.

With the above in mind, I knew I needed a different approach and decided to use gloves. Firstly I had to sew the times table numbers onto the gloves. It was quite a laborious task as even though I've sewn a lot of items throughout the years, getting consistent numbers on each finger became a challenge.
Surely there must be an easier way? Each glove was taking in excess of an hour, and that's with a lot of practice! The picture below is one of the designs now registered with the UK, European and US Patent Offices. We realised that the gloves would need to be mass produced, so it was important to establish the designs prior to launch.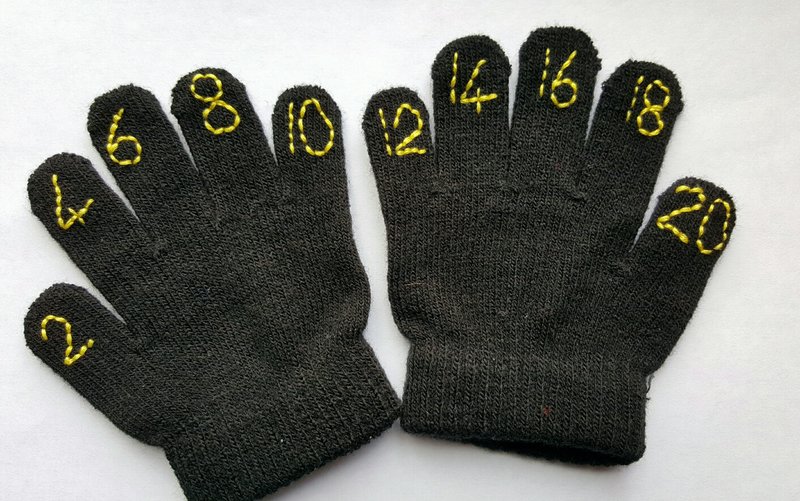 The initial 'Craft Fair' version of the gloves were used to teach my pupils and I found that immediately my students picked up times tables with ease, due to the visual COGS experience. Their parents were thrilled and suggested I start a business to help other children use this quick process.
4 months later, COGS were then born as a unique way of combining visual, quick fire, games and patterns all rolled into one, using gloves. Something most children wear and find fun.

They can help children memorise and remember their times tables, helping their cognitive development whilst building confidence. They are a fun, unique, unusual way to help learn times tables quickly. You can 'invent' games to play with them. We really believe they can help children, as times tables act as a basic building block for maths.
We'd like to think of it the perfect solution to times table teaching, ie finding a way that really works is what every parent and teacher wants. Get those Cogs working.......
I say we, as to bring to life this exciting venture, I am joined by two of my closest friends who bring a wealth of skills and experience in the world of education, finance, IT and of course creativity.

Good luck and thank you for taking the time to visit our shop - the team at Learning With Confidence Ltd.